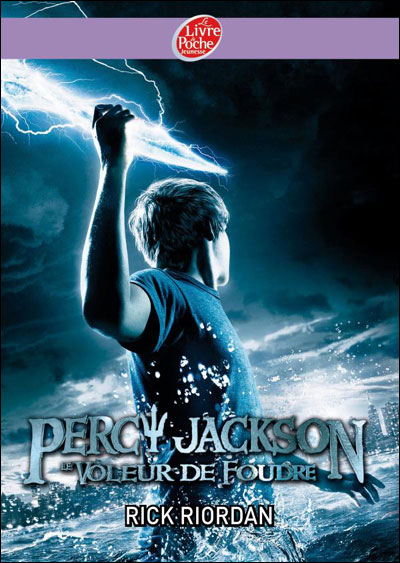 Auteur :
Rick Riordan
Titre VO : Percy Jackson and the Olympians, book 1 : The Lightning Thief
Traduction : Monade Pracontal
Genre : Fantastique - Jeunesse
Edition : Le livre de poche jeunesse
Parution : le 27 janvier 2010
Pages : 472
Prix : 6.50 euros
*Commander sur amazon :
Percy Jackson, tome 1 : Le voleur de foudre
*
Résumé :
Une vie de demi-dieu, c'est dangereux. C'est angoissant. Le plus souvent, ça se termine par une mort abominable et douloureuse. Dès l'instant où l'on sait si l'on en fait partie, ils le perçoivent eux aussi et ils se lancent à vos trousses. Un jeune garçon apprend que les dieux de l'Olympe sont on ne peut plus vivants, et qu'il est lui-même un demi-dieu.

Mon avis :
J
e pense que je n'aurai pas lu ce livre s'il n'avait pas été proposé sur Livraddict pour le Book Club du mois d'août. Et puis le fait qu'il ait été adapté au cinéma a fini de me convaincre de me lancer.
J'aime quand un livre aborde une mythologie ancienne, que ce soit l'égyptienne, la grecque comme ici ou autres. Donc c'est un plaisir de lire un ouvrage qui me permet d'approcher ce sujet. Il partait vraiment bien ce Percy Jackson. Ce qui m'a particulièrement plu, c'est de voir les composants de la mythologie grecque se mêler à notre monde moderne. Elle côtoie de manière tout à fait cohérente le monde d'aujourd'hui. On nous explique tout un tas de choses petit à petit, au fil de l'avancement de l'histoire et j'ai adoré découvrir tout ce que l'auteur nous apprenait.
D
ans son aventure, Percy va rencontrer quelques célèbres monstres comme le Minotaure, Méduse, Cerbère et j'en passe et bien qu'ils soient normalement tous déjà mort (voir les histoires des légendes grecs) Rick Riordan a su trouver une explication pour les réutiliser. Tout est expliqué dès que Percy croise un de ces monstres et l'auteur nous rappelle parfois son histoire dans la mythologie. C'est très agréable d'avoir ce genre de clins d'œil pour ceux qui connaissent déjà ce type de légende et ça permet aux néophytes de les découvrir. Du fait de l'univers qu'il a créé pour Percy Jackson, l'auteur intègre également quelques légendes de son cru, telle que celle de Thalia, fille de Zeus, transformée en pin afin de la sauver et elle s'intègre tout aussi bien au récit.
L
'histoire tient donc la route et possède un bon équilibre entre actions et phases de repos qui sont l'occasion d'assister à quelques dialogues tordants. Nos personnages ont de l'humour et Percy n'est pas en reste car c'est le plus souvent lui qui nous sort des phrases comiques.
L
es personnages sont nombreux mais chacun a son petit caractère. Outre Percy qui parle trop et qui mine de rien n'est pas bête comme il peut le dire, il y a Annabeth qui est vaillante, qui a envie de découvrir le monde extérieur pour se battre et possède un sens tactique qui lui vient de sa mère. Ce sont les deux personnages qui m'ont le plus marqué et les autres beaucoup moins. Il y a bien Grover mais je ne saurais pas trop quoi dire sur lui. Pleins d'autres sont à découvrir. Les quelques Dieux rencontrés correspondent à l'image que l'on peut se faire d'eux, surtout par rapport à ce que j'ai déjà pu lire sur eux. En gros ils font ce qu'ils veulent et ne supportent pas qu'on leur répondent. Je les ai trouvés plus que caractériel et pas franchement ouvert à la discussion ni à grand-chose d'ailleurs.
A
u final c'est une bonne lecture. L'univers est bien fichu, l'aspect mythologique est expliqué et bien présent. Les personnages complètent ce tableau ma foi fort sympathique. Sachant que c'est une série j'aurai plaisir à lire les autres tomes.

La série - Percy Jackson :
1. Le voleur de foudre
3. Le sort du Titan
4. La bataille du labyrinthe
5. Le dernier Olympien
-Série terminée-