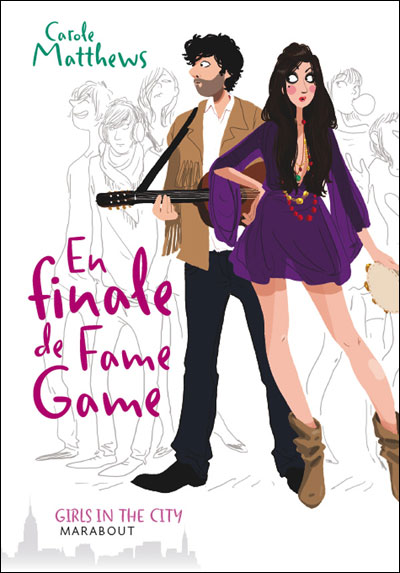 Auteur :
Carole Matthews
Titre VO : Welcome to the real world
Genre : Chick Lit
Edition : Marabout - Girls in the city
Parution : le 10 juin 2009
Pages : 436
Prix : 6.90 euros
Commander sur amazon : /
Résumé :
Fern, 35 ans a une voix sublime mais n'a pas encore trouvé le moyen d'en vivre. Serveuse dans un pub, elle y joue deux soirs par semaine avec un guitariste, Cari. Elle cumule les petits boulots jusqu'à ce que Cari, fou amoureux d'elle, lui trouve une mission d'intérim en tant qu'assistante... d'un grand chanteur d'opéra, Evan. Sans le lui dire, Cari envoie leur candidature au jeu télévisé Fame Game, qui chaque année découvre une nouvelle star. Parachutée dans un monde d'ados formatés aux pré-sélections, Fern passe avec succès toutes les sélections, dont un membre du jury n'est autre qu'Evan... Une comédie riche, dynamique et drôle, sur la rencontre de deux univers que tout sépare, l'opéra et la pop.

Mon avis :
A
vant de passer à la décortication du livre je précise que je l'ai lu dans le cadre de mon challenge hasard(eux) et que je n'avais pas le droit de lire le résumé. J'ai opté pour la facilité et pris un livre dans un genre que j'apprécie. Et de la chick lit, en général ça passe bien.
P
remière chose, je vais expliquer ce à quoi je m'attendais en me fiant au titre et à la couverture. Ces deux éléments font penser qu'on va se retrouver confronté à un univers musical. Je m'attendais aussi à retrouver une romance dans le tout, c'est assez courant dans ce genre de livre.
L'histoire est quelque peu simpliste et n'apporte rien qui n'a pas été déjà abordé auparavant, mais Beth est un personnage charmant et je me suis bien attachée à elle. Et malheureusement c'est un des rares points positifs du livre. Globalement il souffre d'énormes longueurs et la présence de situations s'apparentant au jeu du chat et de la souris, situations du plus mauvais effet ici, n'a pas aidé à me sentir bien dans l'histoire. Je supporte difficilement les malentendus à répétition envers les personnages. En plus ils sont tous condensés à la fin ce qui n'améliore pas le récit. Cela est récurrent dans ce genre de roman, mais en plus petite dose, à défaut de raconter autre chose, ça serait très certainement mieux passé.
Si tout le livre donne l'impression d'être long, la fin est trop précipitée et l'historie d'amour fait office de dernières roues du carrosse. Le coup du meilleur ami amoureux depuis longtemps, mais qui n'est pas aimé en retour, m'a agacé. Surtout la manière dont c'est abordé dans le livre. J'ai eu de la peine pour ce pauvre Carl. On ne saura qu'à la fin qui Beth aura choisi entre l'ami de toujours et le beau ténor. Le fait d'avoir certains passages du point de vue d'Evan est bien sympa, mais ils ne sont pas assez nombreux pour moi.
Le côté musique est bien présent et ce sont les moments les plus intéressants. Il était dommage que ce qu'on nous vend dans le titre, le Fame Game qui est une émission, soit quasi-absent. Ce n'est pas l'élément principal du livre. Donc le titre n'est pas vraiment adapté à l'histoire, ce n'est que mon opinion et ça se produit souvent.
A
u final ce livre est très moyen. Rien de neuf sous le soleil, trop de longueurs, des situations agaçantes et même si ça n'était pas un mauvais moment de lecture, il sera très vite oublié.
PS : Si je n'avais pas lu ce roman pour mon challenge, si j'avais lu le résumé j'aurai très bien pu l'acheter.