Bon vous commencez à connaître la musique, mais je suis tellement fan de cette box.
Chacune des photos présentes sur ce billet est cliquable pour voir au mieux les objets de la box.
Le thème d'octobre était :
Ladies that slay
♣ Dans la box j'ai trouvé
une boîte contenant le thé
le plus beau que j'ai jamais vu. Enfin regardez moi ces morceaux. Il est inspiré de The Ravens Boys de Maggie Stiefvater. En VF je crois que c'est La prophétie de Glendower (après vérifications c'est ça).
♣ La box contenait une nouvelle fois une bougie. Elle se rapporte à Hermione et la bougie sent très très bon. Je l'ai faite brûlé et je confirme, elle sent très très bon.
♣ Sur la photo de droite on trouve :
- tout en haut, un autocollant avec une citation provenant du livre Une braise sous la cendre de Sabaa Tahir
- en bas à gauche un pins du livre This Mortal Coil Enamel
- en bas à droite, un badge thermocollant inspiré de la trilogie Hunger Games.
♣ L'item qui a encouragé ma commande, tout comme la présence d'un deuxième livre à paraître en mai 2018 en VO, c'est le Book Sleeve, ou une pochette pour livre. J'ai découvert ça il y a quelques mois, j'en ai d'ailleurs acheté une sur Etsy aux couleurs d'Hunger Games et ce qu'il y a de bien, c'est que ce sont généralement des pochettes bien épaisses, qui sont matelassées, du coup ça protège bien le livre. Celle reçue dans la box a un motif qui ne me plaît pas à 100%, mais c'est un bel objet qui m'a l'air de qualité.
♣ En enfin il y a une carte postale, qui va avec le livre principal contenu dans la box
♣ The Last Namsara parle de dragons, de chasseurs de dragons, c'est bon il ne m'en faut pas plus. La version du livre présente dans la box était exclusive. Alors que la version classique a des paillettes dorées et des finitions sur la couverture, celle que j'ai eue est toute argentée.
♣ Le deuxième livre paraîtra le 22 mai 2018, quand j'ai lu le résumé, ça m'a donné l'eau à la bouche.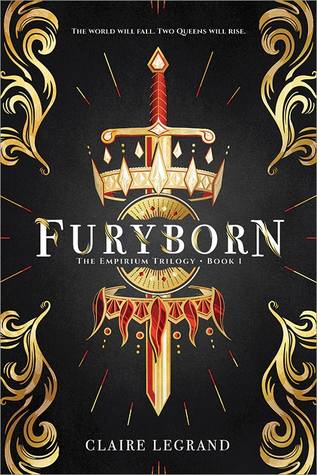 La couverture de Furyborn a été dévoilé quelque temps après que j'ai reçu la box. Elle est tout simplement superbe. Déjà le résumé me donnait envie, avec cette couverture, ça n'a pas arrangé les choses.
C'est une très grosse sortie de l'année 2018, en tout cas la maison qui publie ce titre a prévu une grosse campagne autour.
♣ Je n'ai rien à ajouter de plus que ce que j'ai dit. Le contenu de la FairyLoot de Novembre m'a beaucoup plu.