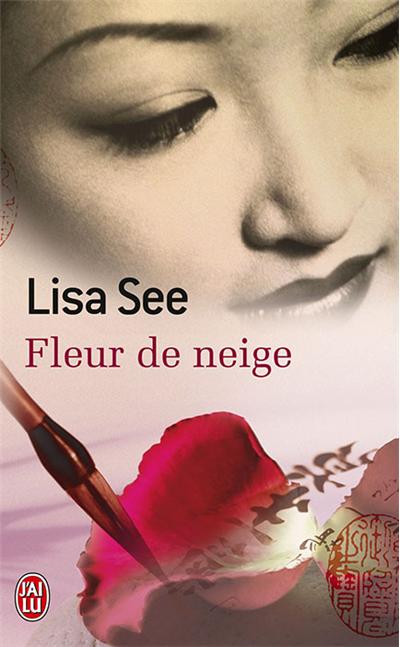 Auteur :
Lisa See
Titre VO : Snow flower and the secret fan
Traduction : Pierre Ménard
Genre : Historique
Edition : J'ai lu
Parution : le 3 mai 2007
Pages : 377
Prix : 7.10 euros
*Commander sur amazon :
Fleur de neige
*
Résumé :
Fleur de neige Dans la Chine du XIXe siècle, le destin de deux jeunes filles est lié à tout jamais. Fleur de Lis, fille de paysans, et Fleur de Neige, d'origine aristocratique, sont nées la même année, le même jour, à la même heure. Tous les signes concordent : elles seront laotong, âmes soeurs pour l'éternité. Les deux fillettes grandissent, mais si leur amour ne cesse de croître, la vie s'acharne à les séparer. Alors que la famille de Fleur de Neige tombe en disgrâce et que la jeune fille contracte le mariage le plus infamant qui soit, Fleur de Lis, par son union, acquiert reconnaissance et prospérité. L'amitié sacrée des deux femmes survivra-t-elle au fossé que le destin a creusé entre elles ?
Mon avis :
Fleur de lys est une jeune chinoise qui a grandi dans une famille pauvre mais qui va, grâce à son alliance en tant que laotong avec une jeune fille, se voir ouvrir des portes qui lui auraient normalement été fermées. Les laotong sont des âmes sœurs et il est très rare d'en trouver. Beaucoup de critères sont nécessaires pour en devenir une, comme la correspondance des caractères des noms ou de la taille des fillettes. Bref ça ne court pas les rues d'autant plus quand elles appartiennent à deux mondes différents. Lisa See nous invite à prendre part à l'histoire de Fleur de Lys ainsi qu'à celle de Fleur de neige, toutes unies afin d'affronter la vie qui les attend.
C
'est un voyage à travers la Chine et ses traditions auxquelles nous prenons part. L'auteure arrive très bien à nous immerger dans cette culture et ce qui m'a le plus marqué c'est le rituel des pieds bandés. C'était un passage quasi obligé pour toutes les fillettes, qui a lieu aux alentours de l'âge de 6 ans. C'était une marque de beauté chez les femmes qui était beaucoup plus apprécié que l'apparence elle-même. Je ne vous explique même pas les détails qu'on nous donne, c'est vraiment une épreuve affreuse qui vous retourne le coeur. J'ai tellement eu du mal à me l'imaginer, ne pouvant y croire et le concevoir, même si je connaissais cette pratique, mais de manière très abstraite. Je suis allée voir des photos sur internet pour voir à quoi ça ressemblait vraiment et j'ai toujours du mal à croire que c'était possible. Outre les pieds bandés on apprend comment les femmes de l'époque vivaient ainsi que leur devoir en tant qu'épouse, mère, fille et belle fille. Elles vivaient avec beaucoup de contraintes sans réelle liberté toujours à vivre pour les autres. C'est intéressant et bien loin de notre monde actuel.
I
l m'est difficile de juger les personnages ou même les faits eux-mêmes. L'auteure nous donne la possibilité d'assister à une histoire intemporelle dans un pays qui avait des coutumes très éloignées des nôtres. J'ai été prise par l'histoire, tout en gardant une distance avec ce qu'on me racontait. Mais j'ai bien aimé Fleur de Lys et Fleur de Neige qui nous font partager leur quotidien si semblable et si différent. Elles s'aiment énormément toutes les deux mais ne se comprendront jamais tout à fait. Le livre se laisse lire et m'a permis de voir autre chose. Il n'y a pas d'action, le rythme est lent, ce qui me semble normal au vu de ce genre de récit. C'est seulement l'histoire d'une femme unie par un serment avec une autre. Elles sont chinoises et ont une vie toute tracée dès la naissance. Mais on ne s'ennuie pas, on vit avec elles les épreuves qu'elles devront subir.
A
u final c'est un bon livre, un récit bouleversant qui nous fait voir certaines choses de notre quotidien différemment et qui fait réfléchir. Mais je ne lirais pas ce genre d'histoire tous les jours non plus.
Retrouvez d'autres avis sur la page bbm du livre :

Je remercie Acsylé pour m'avoir défié sur ce livre et Juna d'avoir imaginé de défi.