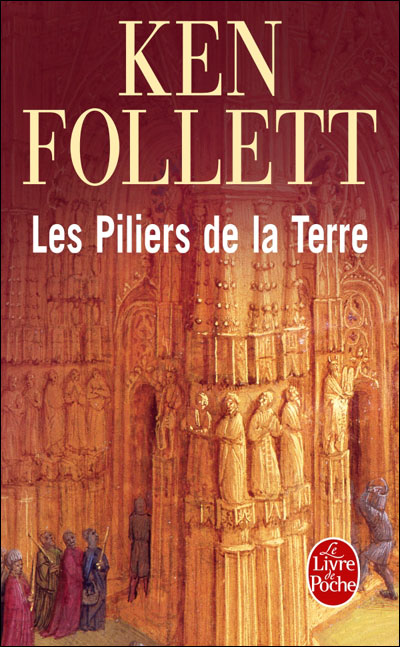 Auteur :
Ken Follett
Titre VO : The pillars of the Earth
Traduction : Jean Rosenthal
Genre : Historique
Edition : Le livre de Poche
Publication : Mai 2008
Pages : 1049
Prix : 11 euros
*Commander sur amazon :
Les Piliers de la Terre
*
Résumé :
Dans l'Angleterre du XIIe siècle ravagée par la guerre et la famine, des êtres luttent chacun à leur manière pour s'assurer le pouvoir, la gloire, la sainteté, l'amour, ou simplement de quoi survivre. Les batailles sont féroces, les hasards prodigieux, la nature cruelle. Les fresques se peignent à coups d'épée, les destins se taillent à coups de hache et les cathédrales se bâtissent à coups de miracles... et de saintes ruses. La haine règne, mais l'amour aussi, malmené constamment, blessé parfois, mais vainqueur enfin quand un Dieu, à la vérité souvent trop distrait, consent à se laisser toucher par la foi des hommes.
J
'aime bien les romans historiques et face à tous les échos positifs que j'ai pu entendre sur ce livre, il fallait bien qu'un jour je le lise. Une lecture commune m'a fait franchir le pas.
Parmi les personnages, certains sont plus présents que d'autres. Parmi eux:
-
Jack:
mon personnages préféré, avec Aliena, celui que j'ai trouvé le plus complet et celui qui m'était le plus sympathique surtout dans sa vie adulte. Il est passionné par la construction et est doué pour sculpter les pierres et dans la prise en charge de tout un chantier. Passion transmise par Tom son beau-père.
- Aliena: fille du premier comte de Shiring, elle subira de nombreuses épreuves aussi cruelles que dures à supporter pour une jeune fille élevée dans un environnement aisé. C'est la femme la plus développée dans l'histoire et celle à laquelle je me suis le plus attachée avec Jack.
- Philip: Homme d'église, très pieux, il sera confronté lui aussi à pas mal d'épreuves. Ce personnage m'a paru tantôt sympathique quand l'histoire était racontée de son point de vue, tantôt moins quand on le voyait selon le point de vue de quelqu'un d'autre. Bien que très présent dans l'histoire je ne sais toujours pas quoi penser de lui une fois le livre refermé.
- William et Waleran: Ces deux hommes sont les principaux ennemis durant toute l'histoire. Ils sont ambitieux et sans pitié et ne reculeront devant rien pour assouvir leurs désirs. Ils sont comme des tiques sans cesse à s'accrocher à leur vengeance. Ils sont tous les deux détestables au possible.
D'autres personnages sont à découvrir et il y a de quoi faire.
L
'histoire comporte tout un panel d'événements que l'on retrouve dans beaucoup de romans historiques. Vous n'échapperez ni aux scènes de violence, ou le sang coule avec parfois des descriptions qui peuvent gêner, ni aux viols, ni aux meurtres. On retrouve également des scènes propres à la vie au Moyen Age, qui demeurent intéressantes.
La partie que j'ai préférée est la quatrième. C'est celle où le plus de bonnes situations arrivent, où j'ai le plus apprécié l'histoire et où je me suis réellement attachée à Jack et Aliena qui prennent alors plus d'importance. J'ai aussi aimé suivre la construction de la cathédrale au fil des ans et ses aléas.
J'ai moins aimé les trop nombreuses scènes de violence et de moments tristes et durs qui même si certains sont caractéristiques de l'époque arrivent trop souvent. De plus, le fait qu'ils soient toujours perpétrés par les mêmes personnes a fini par me lasser.
L
'auteur a su créer un univers riche dans lequel la psychologie et le développement de certains personnages manquent pourtant de profondeur. Je pense notamment à Ellen, Martha ou Richard. Des éléments positifs encourageants mais aussi des éléments négatifs font que je n'ai pas totalement accroché au livre. Avec tous les avis positifs entendus ou lus, je m'attendais à mieux et j'ai été un peu déçu.
Une lecture agréable