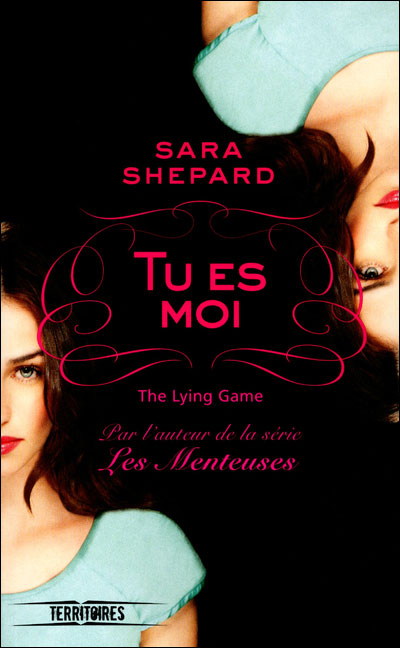 Auteur :
Shepard Sara
Titre VO : The Lying Game, book 1
Traduction : Isabelle Troin
Genre : YA, Thriller
Edition : Territoires
Parution : le 5 janvier 2012
Pages : 350 pages
Prix : 16.10 euros
*Commander : The Lying games, Tome 1 : Tu es moi*

Résumé:
Deux jumelles que tout sépare.
Une disparition mystérieuse.
Un jeu diabolique et dangereux.
Qui pourra en sortir indemne ?
Mon avis:
Après l'avis des plus enthousiaste de Iwry, j'ai eu envie de me plonger dans Tu es moi. J'avais entendu parler de l'auteur en bien avec notamment sa série sur Les menteuses mais un coup du sort aura fait que c'est Tu es moi que j'aurais découvert avant.
Emma a été abandonné par sa mère quand elle avait 5 ans et depuis elle voyage de famille d'accueil en famille d'accueil. Un jour on lui montre une vidéo dans laquelle elle voit une fille lui ressemblant trait pour trait. Mais Emma sait que ce n'est pas elle. Très vite elle se découvre une sœur jumelle, Sutton, et part à sa rencontre. Mais en arrivant dans la ville où vit sa sœur, il y a un problème car Sutton n'est pas au rendez-vous. Par un concours de circonstances Emma est prise pour Sutton et va prendre sa place dans la vie de celle-ci. Les choses se compliquent lorsqu'elle apprend que Sutton a été assassinée. Emma est dans les problèmes jusqu'au cou.
L'histoire va pendant une bonne partie du livre se centrer sur une Emma tentant tant bien que mal de se faire une place dans la vie de Sutton. Et cela s'avère très compliqué car elle ne connaît absolument pas sa sœur et, que ce qu'elle découvre sur elle petit à petit a de quoi lui faire peur. Sutton n'était pas une enfant de chœur loin de là. Avec ses amies elles font continuellement des blagues salaces à n'importe qui, les blessant de manière gratuite. Et la cerise sur le gâteau c'est que même entre elles c'est la porte ouverte à tout. Ce qu'il devait arriver arrive et l'une d'entre elle, est morte.
J
'ai du mal à comprendre comment des jeunes filles à l'aise dans la vie, avec un physique avantageux, une famille et des amies peuvent faire des trucs pareils mis à par l'ennui. L'auteur ne nous le fait pas savoir sauf que cela les amuse. Cela va loin et elles se fichent des représailles et la plupart du temps elles ne sont même pas embêtées.
C'est effrayant de voir jusqu'où ça va.
J'ai été aussi horrifiée qu'Emma des découvertes qu'elle va faire en essayant de ne pas se retrouver impliquée. C'est dur car visiblement Sutton était capable des meilleurs blagues et ses amies la prennent souvent à partie.
J'ai beaucoup apprécié de suivre Emma dans cette vie au combien différente de celle qu'elle menait jusque-là. C'est très intéressant et l'enquête en fond de toile suit son bonhomme de chemin pendant ce temps. Si j'ai un peu regretté qu'elle mette du temps à avancer, la fin permet de comprendre pourquoi. La résolution du meurtre de Sutton prend un coup d'accélération donc vers les dernières pages. C'est si on y réfléchit normal, le temps d'apprivoiser Emma et surtout ses nouvelles camarades de jeux pendant le reste du livre.
Le petit plus du livre, l'élément qui fait la différence par rapport à d'autres titres du genre c'est que Sutton accompagne Emma pendant toute l'histoire. Fantôme invisible aux yeux de tous, elle est la triste spectatrice de la tentative d'Emma à retrouver son assassin. Elle a accès aux pensées d'Emma et réagis à ce qu'il arrive à celle-ci, ponctuant l'histoire à divers moments de ses impressions. Sutton ne se souvient de rien du tout, juste quelques éléments sans grande importance. Au fur et à mesure de l'avancée d'Emma, des fragments lui revienne et elle nous les raconte lors de certains chapitres.
Emma est une jeune fille bien sous tout rapport, que l'on a toujours jugée par rapport à son statut de fille abandonnée. Ces familles d'accueils n'étaient pas tendre mais elle a su rester une personne agréable qui n'a pas mal tourné. Elle est normal, elle est effrayée par sa situation, elle a du mal à faire comme si tout allait bien mais ne s'en tire pas trop mal. Elle fait du mieux qu'elle peut. J'ai aimé son obstination à vouloir découvrir la vérité malgré ce qu'elle peut découvrir et subir. Elle a à cœur de trouver qui a commis le meurtre pour rendre justice à sa sœur.
Ses amies sont toutes à baffer, pas une pour rattraper l'autre et je me demande encore ce qui ne tourne pas rond dans leur tête. Mais vous verrez qu'elles ont toutes une raison de vouloir tuer Sutton.
Il y a un personnage que l'ont voit peu mais qui vers la fin va se révéler et entourer Emma. Dommage qu'il n'est pas été plus présent tout le long mais se sera surement le cas dans le tome 2. Il apporte une aide morale qui fait du bien et enfin Emma n'est plus toute seule. A part Emma les personnages sont peu développés sans que cela ait grande importance.
L
'auteur utilise un
vocabulaire simple
mais
ce que j'ai trouvé fantastique c'est sa façon de nous conduire là où elle le veut.
Elle est diaboliquement intelligente dans sa manière de traiter ce meurtre. Combien de fois je me suis dit non ce n'est pas si simple, ça ne peut pas être elle ou lui, hé bien non. Je crois bien que tout le monde y passe et nous somme tous un peu les jouets de l'auteur, personnages comme lecteurs.
Un tome 1 qui pose des bases solides. Une fin que je n'attendais pas telle quelle, surprenante et pleine d'interrogation quant à la suite. Sara Shepard montre une habileté à nous mener par le bout du nez et c'est génialement bon.
Ma note : 8,5/10
Retrouvez l'avis de
Iwry
et d'autres sur la fiche BBM du livre

*Je remercie les éditions Territoires pour cette belle découverte*


3. Two Truth and A Lie
4. Hide and Seek
5. Cross My Heart, Hope to Die - le 5 février 2013 en VO
6. Flip, Sip, Die - le 30 juillet 2013 en VO