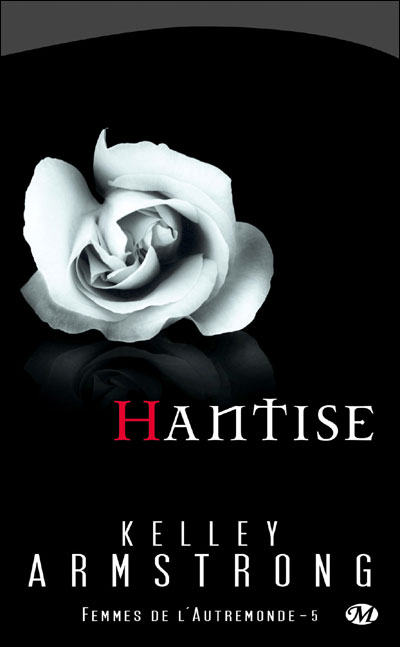 Auteur :
Kelley Armtsrong
Titre VO : Women of the Otherwolrd
Traduction : Mélanie Fazi
Illustration : Lapao
Genre: Bit-lit - Urban Fantasy
Edition : Milady
Parution : le 22 octobre 2010
Pages : 544
Prix : 8 euros
*Commander sur amazon :
Femmes de l'Autremonde, tome 5 : Hantise
*
Résumé:
Eve Levine, semi-démone, sorcière adepte de la magie noire est morte. Elle vit très bien cette situation. Mais les Parques réclament qu'elle paie sa dette envers elles en capturant un esprit malfaisant qui s'est échappé de l'enfer. Il se nourrit de la mort et du chaos, et est très doué pour convaincre les gens de tuer pour lui. Cette créature ne peut être vaincue que grâce à une épée maniée par un ange. Or, Eve est loin d'en être un.
J'ai adoré Elena, la louve-garou et aimé Paige la sorcière. Alors qu'en est-il d'Eve la semi-démone et sorcière de magie noire, habitante de l'au-delà depuis peu ?
Eve va devoir rembourser sa dette aux Parques pour une faveur accordée. Et le moment est venue de payer son du. Les Parques l'envoient à la chasse aux esprits, mais un des plus malfaisants piégé dans une des strates de l'au-delà. Une mission à haut risque pour Eve mais qui va la distraire de son quotidien morne depuis qu'elle est morte.
S
i je dois reconnaître une chose, c'est l'imagination fertile de Kelley Armstrong, à chaque tome elle arrive à me surprendre.
Cette fois-ci, escale dans l'au-delà et ses strates qui peuvent abriter tout et n'importe quoi et être peupler de n'importe qui.
Voilà un nouveau lieu agréablement accueillit de ma part. J'ai aimé découvrir les différents décors de l'au-delà
, on peut s'attendre à trouver de tout, d'un petit village peuplé d'humains assoiffés de sang jusqu'à croiser un bateau pirate.
L
'intrigue avec la Nix, est tellement tortueuse que je ne pense pas avoir tout compris.
C'est une créature qui a la possibilité de prendre possession d'un corps humain, féminin ou masculin, les incitants à tuer leur prochain. Pour cela il faut déjà en avoir envie mais sans être prêt à vouloir le faire. La Nix va renforcer en quelque sorte ce désir afin de leur faire commettre l'irréparable. Elle se complaît dans cet exercice y trouvant joie et jouissance.
Mon problème vient du fait que l'auteur nous fait croiser la route de plusieurs de ses victimes passées et les noms se sont mélangés dans ma tête si bien que je m'y suis souvent perdue. A côté de ce souci, c'est bien pensé, rythmé à souhait et passionnant.
E
ve est un personnage que j'ai trouvé attirant mais que je n'ai pas aimé comme les autres héroïnes.
Elle souffre malheureusement de la comparaison mais n'en demeure pas moins un personnage haut en couleur, intelligente et à la langue acérée.
J'ai aimé retrouver Jaime
qui m'avait déjà plu dans le tome 4 et j'ai hâte de la retrouver au premier plan. Kristoff Nast le père de Savannah m'a paru bien plus sympathique mais un peu trop absent. Il y a un wagon de personnages dans ce tome et des nouvelles créatures magiques à rencontrer. Globalement je les ai trouvés moins travaillé et moins séduisant que dans les tomes précédents.
C
omme de coutume c'est un jolie pavé qui nous offre l'auteur et ce n'est pas pour me plaindre loin de là car chaque histoire offre son lot de nouveautés.
Une intrigue bien fournie et que j'ai pris plaisir à suivre même si j'ai eu des petits problèmes de mémoires. Petite déception pour les personnages pour lesquelles je n'ai pas accroché comme dans les tomes précédents.
Mais cette série reste dans mes favorites eu j'espère que ça ne changera pas.
Une lecture agréable
Série - Femmes de l'Autremonde:
1.
Morsure
5. Hantise
6. Rupture